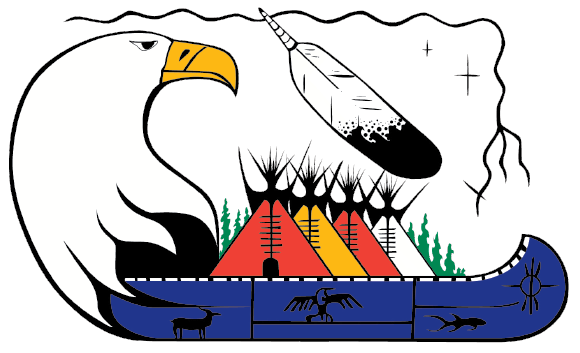 Ginoogaming First Nation

Ring of Fire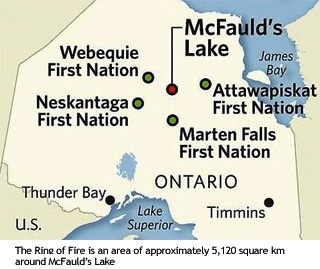 The Ring of Fire is the name given to an area of muskeg swamps in the James Bay Lowlands located in Northern Ontario, Canada, which is currently home to a major mining exploration project. The region is centred on McFaulds Lake in the Kenora District, approximately 500 kilometres northeast of Thunder Bay, about 70 km east of Webequie and due west of the Victor Diamond Mine which is near the Attawapiskat River west of James Bay.
Noront Resources Ltd., a mining company, was in the area in 2007. On August 28 of that year the company announced that it had found a "large find". The company had drilled two holes in the ground, with one having copper sulfide mineralization and the other hole with similar results. A few months later, Noront announced that it had found nickel, copper, platinum, and palladium a few meters below the surface.
The Freewest Black Thor chromite prospect has an estimated 2 km strike length, a depth of 200 m and a 40 m width containing an estimated 72 megatonnes of chromite ore (42% Cr2O3).
In April 2010 the government of Ontario announced that they would be opening up a large chromite deposit in the area to development.
In January 2010, a group of activists from the nearby Webequie and Marten Falls First Nations set up a blockade on the landing strips at Koper Lake and McFaulds Lake. Angry over a lack of consultation, the group prevented planes from landing in the area until the mining corporations agree to address community concerns such as the construction of an airport and ending the use of the frozen Koper Lake and McFaulds Lake as landing strips.
The native groups ended their blockade on March 19, 2010, with the admonition that they will resume the action if their concerns are not addressed by the mining companies within six months. Although the protest ended, aircraft continued to use the frozen lakes as landing strips until break-up that year.